To compound the problem, thatch buildup can act as a barrier preventing water and other crucial nutrients from penetrating to the lawn's root zone.
Aeration works best when a machine specially designed for this task is used (a mechanical core aerator). The machine removes small plugs of soil and places them on top of your lawn, leaving holes that allow nutrients and water to reach the root system.
The process strengthens and invigorates the roots, resulting in a thicker, healthier lawn. While some of our customers request that the plugs be removed, we do not recommend it. The soil from the plugs contain beneficial fungi and bacteria that aid in the decomposition of the thatch layer and are considered a valuable top dressing for your lawn.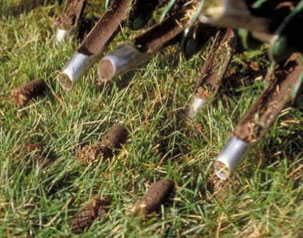 How do you know if you need to aerate your lawn? Well, the obvious answer is that if you notice that your lawn isn't in tip top shape. Another method is to dig up a section of your grass with a shovel to about 5 or 6 inches deep to see if the grass roots are further than 2 inches deep into the soil. If they don't, then your lawn would benefit from lawn aeration. It is common for grass areas that are exposed to a lot of foot or vehicle traffic to need aeration more than other areas because it is more likely to become more compacted. It isn't recommended to aerate a lawn that has been sodded or seeded within the last year of planting.
Water your lawn thoroughly for one or two days before you plan on aerating in order to help the aerator penetrate the soil more easily. Make sure you mark various sprinkler heads and other objects that might get in the way of the aeration. You only need to go over your lawn one time with the aerator.
For Arizona residents, aerating winter grass in September to October is a good time because it allows your grass to break dormancy and the grass is actively growing. For summer lawns, it is good to aerate around the months of May and June.
Let Goodman's Landscape Maintenance help you with your lawn and grass aeration this winter. Call today to learn more about our various Paradise Valley, Phoenix, and Scottsdale landscape maintenance options.