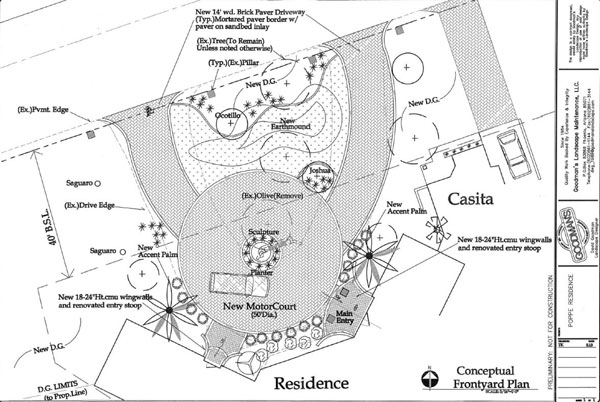 What is a "To Scale" Landscape Design Plan?
Some landscape design contractors will provide an attractive landscape drawing for you to look at, however, when everything isn't to scale, looks can be deceiving. For example, lets say that they provide a design that has 3 larger trees, 2 bushes, and a fountain. It may sound perfect, until everything is installed in your yard. Depending on how large your yard is, it could look too busy or it could look empty. Proportions are very important to understand when you are trying to visualize what your future landscape could look like. Another example is the amount of rock or grass to be used. In a drawing that isn't to scale, you really have no idea how much rock or grass is actually going to be used. The contractor could potentially reduce the cost on his end by not providing you with the amount of rock you thought your yard was going to have.
Reason #1:
A "To Scale" landscape plan ensures that your vision and your landscape designer's interpretation of your vision are congruent. If you have strong preferences about the look of your landscape (which I am sure most of you do), you want to provide your designer website and magazine pictures showing examples of what you want. Another good idea is to provide the designer with actual material samples. This will ensure that the preliminary design drawing is as close to the finished design drawing as possible. Most companies have a limit as to how many revisions are included in the price of landscape plan drawing. If you exceed that amount, there may be an extra charge for additional revisions, so it is best to clearly describe what you are looking for the first time the best that you can.
Reason #2:
When you have a to scale landscape plan you will be able to obtain apples to apples competitive pricing for the work. This is VERY important. If you don't have a plan that spec's out all the details, you may get lower pricing from some contractors, but that pricing will not be for the same amount of work or materials. It is best practice to get no more than three bids after you have done your research on the three companies by checking BBB statuses, licensing, reviews, and references.
Reason #3:
If you don't have the budget to have all of the work completed at the same time, a landscape plan allows you to have the work done in stages. This will better allow you to maintain a cohesive look throughout the various stages. Make sure you have the work done in stages that make sense. For instance, you wouldn't want to have all of the paver work done before the irrigation goes in. Experienced landscape contractors will be able to suggest possible stages and why they make sense. Don't hesitate to ask questions and really understand why parts of the landscape need to be on hold while others are finished up. It is best to have all of the materials purchased in quantities needed to complete the entire project. You want to make sure that the materials used in the 1st stage are from the same batch, and are available at the 2nd or 3rd stage of the project. Otherwise, there could be noticeable differences in the materials or the supplier could run out, leaving your yard undone until they are able to get another shipment in. Buying the materials in bulk also allows you take advantage of sales or volume discounts.
Have Goodman's Landscape provide you with "to scale" landscape design plan for your backyard and receive $25.00 off. Save an additional $15.00 if you get the front yard landscape plan at the same time. Contact us today to schedule a free consultation. This offer can't be combined with other offers and expires 12/31/2013.