With sincere thanks and deeply felt gratitude to all of our customers, everyone at Goodman's Landscape Maintenance join in sending you and your family our wishes for a bountiful and very Happy Thanksgiving!
We are grateful for all of the amazing work that everyone does here at Goodman's and to our customers. We wouldn't be here without your continued support!
Other names include: Mescal Bean, Texas Mescalbean, Frijolito, and Frijolillo. This evergreen shrub or small tree grows to about 12 feet high, it has smooth bark, and its dark green oval leaflets are 1-2 inches long. It blooms from February to April, and it produces Wisteria-like lavender-blue flowers in 4 to 8 inch clusters. The silvery gray 1 to 8 inch seed pods open when ripe exposing red seeds. These small tree often times produce multiple trunks. Keep them in full sun or light shade. They tolerate Arizona alkaline well-drained soils. When moving a Texas Mountain Laurel, make sure to not disturb the root ball.
All parts of the Texas Mountain Laurel are toxic, however it's the seeds that pack the highest concentration. If ingested, among other symptoms, you can expect to see profuse salivation, weakness, impaired vision and a slow heart rate.
Why is it in our landscapes?
It's small size, Wisteria-like blooms, grape Kool-Aid / grape bubblegum scent and overall ornamental appeal make it a popular plant for small spaces. Avoid planting in areas where children or pets spend unsupervised time.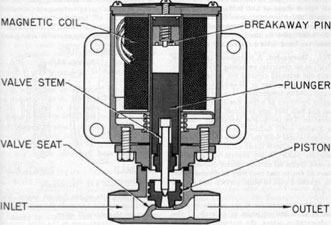 A solenoid is a component of a solenoid valve. Its basic function is converting electrical energy to mechanical energy. A small electrical current is sent to the solenoid spring, causing the spring inside to essentially become a tiny magnet. Coiling tighter as a result of the magnetic field it pulls a tiny piston backward, sealing off the hole that allows air into the chamber. With the release of air pressure, a diaphragm is pushed aside by incoming water which passes through the valve to feed the irrigation lines. When the programmed amount of time ends, the electrical feed is halted and the process reverses. You can usually tell a solenoid is malfunctioning because it'll make a distinct "click" and hum or vibrate when it is activated.
How to change a broken irrigation valve solenoid:
Disconnect both wires connected to the solenoid.
Turn solenoid counter-clockwise until free of the valve.
Screw in new solenoid by turning clockwise, hand tighten only, be careful not to over-tighten.
Connect both wires to new solenoid using waterproof wire caps.
Goodman's Landscape Maintenance has full-time irrigation repair and installation crews that are ready to help you with your next project. Contact us to learn more about our irrigation services in your local Phoenix and Scottsdale area.