It will be summer in Phoenix before we know it. In Arizona, summer is the time of the year where people gather in backyards for barbecues and pool parties. Adding a custom outdoor kitchen and BBQ to your backyard is a great way to increase your home's value and enhance the experience of entertaining your friends and family. No matter what size your backyard is, small or large; we have the experience to build the perfect entertainment area for your home.
We have been building custom outdoor kitchens and barbecues for Phoenix, Arizona residents since 1984, so we have quite a few examples available to look at. Check out a few of them below, but remember that we can build anything that your imagination can think of, so just ask and we can provide you with an estimate for your dream outdoor kitchen and BBQ.
Outdoor BBQ with small refrigerator
Let your patio provide the shade for your BBQ.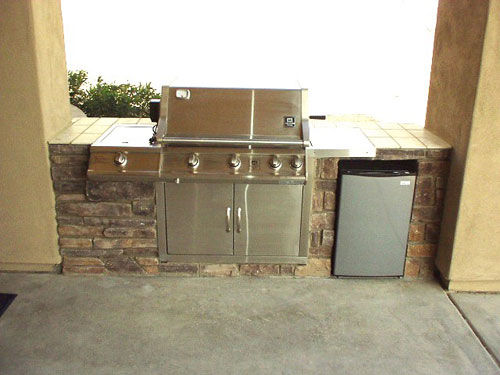 ---
Outdoor barbecue with sunshade and light
You don't need to put your BBQ underneath your patio.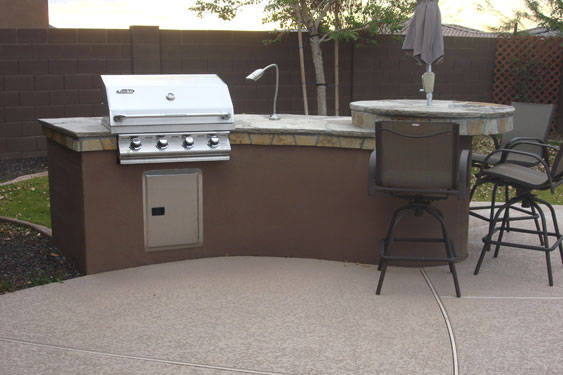 ---
Natural stone BBQ with large fireplace
Heat up with an adjacent fireplace when it gets chilly at night.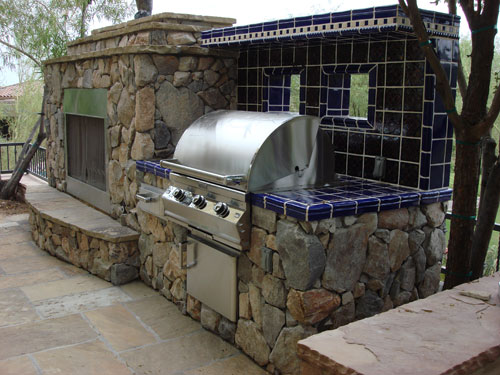 ---
Patio BBQ with tall bar
Have your friends and family relax while you fire up your new backyard grill.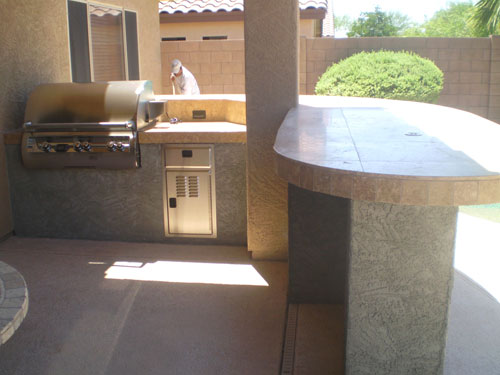 ---
Stainless steal Barbeque with natural stone and refrigerator
Pavers and blue title make this BBQ really stand out.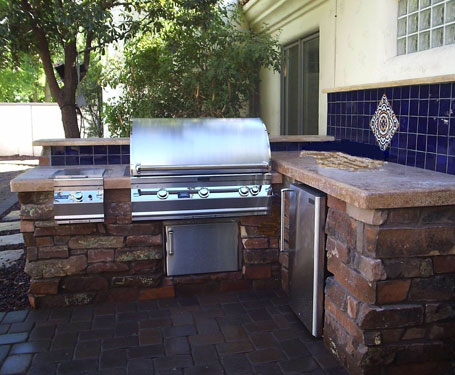 ---
Outdoor kitchen with stools, bench, and sink
Turn your backyard into the ultimate entertainment center.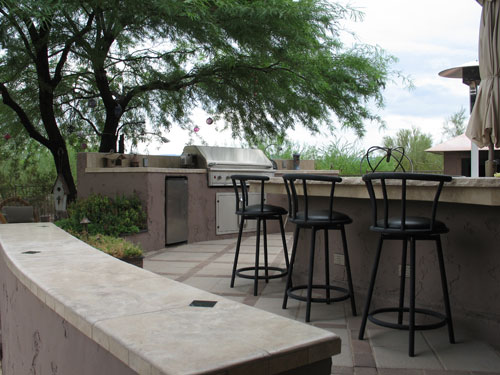 ---
Outdoor kitchen with title and stone
Large outdoor kitchen with everything you need to prepare a gourmet meal.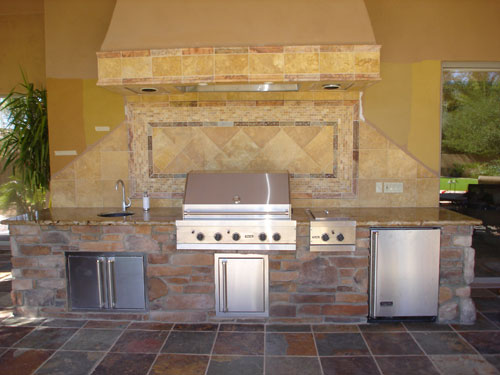 ---
Free standing custom outdoor kitchen
Enough room to prepare everything you need for the perfect BBQ.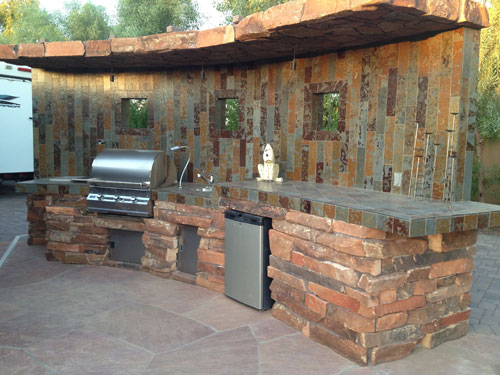 ---
Storage and side burner outdoor BBQ and Kitchen area
Do you really need anything else? Two mini refrigerators stocked with refreshments and food.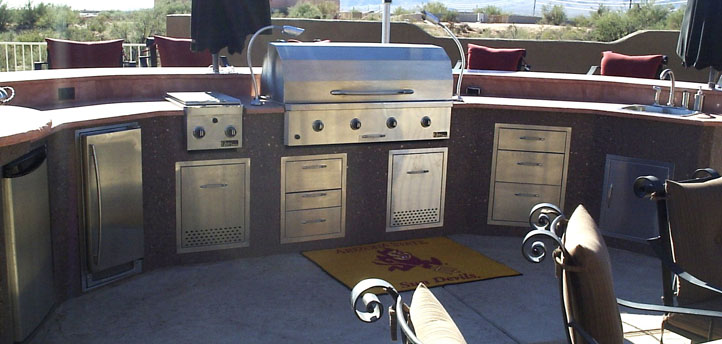 ---
How to pick the right setup for your home's backyard
When we talk to homeowners in Arizona, they tend to ask similar questions. One of those questions is, "How do we pick the right BBQ or outdoor kitchen for us?" Well, every person's expectations and backyards are unique. To find out what would work best for a particular homeowner, we first need to understand what the homeowners want to get out of the area. Do they entertain people often or do they rarely go in their backyard? How often do they grill right now? Depending on what those answers are, we can usually get a good understanding of what would be best for them. Sometimes a BBQ or outdoor kitchen is what they thought they wanted, but end up going with a water feature/fountain or fire pit instead.
How to you reduce the cost of a custom BBQ or kitchen
Just like anything else, we could design and install the most expensive BBQ/kitchen you could dream of. The final cost of your BBQ or outdoor kitchen will depend on cost of materials and how much time it takes to build. If you are trying to save money (who isn't?!), then we would suggest choosing cheaper alternatives than really expensive materials. The cost of the stainless BBQ alone can easily be in the thousands. Don't worry if you aren't a BBQ master yet, our team can help you pick the perfect BBQ for your level of expertise and budget.
Secondly, we wouldn't suggest adding certain accessories unless you know that you are going to use them. Eliminating unnecessary accessories can help reduce costs, which makes your investment less expensive.
For whatever type of outdoor BBQ or kitchen you are looking for, we can help you out. We would love to learn more about what you are looking to do with your backyard. We proudly provide landscape design in Peoria, Phoenix, Scottsdale, Glendale, and more. Please contact us today to see if your home is within our landscape design service area! We look forward to earning your business.