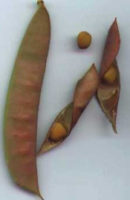 Native to the West Indies, Central and South America Caesalpinia pulcherrima produces thin, flat 2.5" long bean pods which twist as they dry. The seed Pods and seeds are poisonous. It also has small furry looking thorns which are nevertheless sharp, make sure to wear long sleeves and gloves when pruning.
Why they are in our Landscapes: Red Birds are fast growing plants between 6 and 15ft tall and wide, are drought tolerant, take full sun, are salt tolerant and therefore grow well in our Phoenix soils. From March to October, they are reliable bloomers with colorful attention grabbing flowers.
---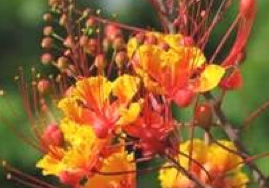 Their dormant period in winter is excellent for strategic layering. Despite their showiness, it is not a good idea to use them in areas where small children or pets spend unsupervised time (due to the thorns and poisonous seed pods and seeds), or as the single focal point in your land- scape (due to their dormant stage).
---
As stated earlier, knowing they go dormant does work to your advantage in planning year round color (landscape layering). Plant them in front or behind plants that bloom in the opposite season. They can also be used as an informal, open and colorful hedge or in groups for maximum impact. Unless you cut them back, keep in mind that you'll be looking at leafless, reddish brown sticks during the coldest winter months.
---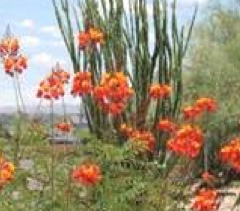 Avoid planting on the North side of your home or where the shrub will be subject to prolonged periods of shade. Also avoid planting in soil that receives a lot of water, or retains water. These conditions will make this shrub leggy and there will be little to no bloom.
---
Month of July Promotion
Free Water Leveler!*
Goodman's Landscape will include an autofill water leveler free of charge with purchase and installation of any custom designed or prefabricated water fountain.
Up to a $100 Value
depending on type of fountain and installation method
*Must be in our Service Area. One coupon per customer. May not be combined with other offers. Expires 8/31/2013.