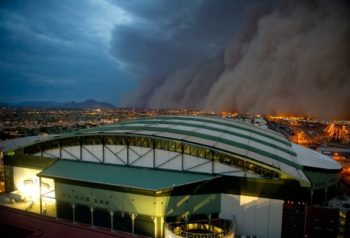 In 2008 the National Weather Service decided to take the guesswork out of the monsoon start & end dates. June 15th became the 1st day of the monsoon, and Sept. 30th become the last day.
During the monsoon season, Arizona experiences high winds, blowing dust & severe down- pours commonly resulting in flash floods, run off damage & downed or damaged trees.
Although it is not a guarantee that damage won't occur, thinning tree canopies prior to the monsoon can help protect them from damage by high winds.
Goodman's Landscape offers professional tree thinning, after storm clean ups & runoff damage repair that you can depend on.
Landscaping Tip For the Month of June
June is probably the most difficult period for many plants because of the long days, high temperatures, and low humidity. Ineffective water management is the number one cause of death of landscape plants in the Valley, and, believe it or not, it is more frequently from over watering than under watering. You can reduce your water bill and take better care of your plants it you water slowly (prevents run off), deeply (use a soil probe or a long handled screwdriver to check that the water is penetrating 2-3 ft. deep for trees and shrubs, and 1- 1 1/2 ft. deep for turf & flowers), and infrequently (Let the soil dry between water- ing).
Climate Information for June in Phoenix, Arizona Rainfall:
Average: 0.1 inches
Record: 1.7 inches (1972)
Temperature (degrees F):
Average High:
103.5 degrees Lowest High: 68 degrees (1899) Record High: 122 degrees (1990)
Average Low:
72.9 degrees Highest Low: 93 degrees (1990) Record Low: 49 degrees (1908)
Note:
Rainfall and temperatures vary widely within the valley depending upon elevation and microclimate.
Source: AZ Cooperative Extension, Maricopa County, The University of Arizona College of Agriculture & Life Sciences & Goodman's Landscape Maintenance, LLC.
Month of June Promotion
Pre Monsoon Tree Trimming
Thinning of canopies prior to Monsoon Season helps wind pass through decreasing the chances of breakage or trees going down.
$40 Off jobs totaling $360 or more!*
*Must be in our Service Area. One coupon per customer. May not be combined with other offers. Expires 7/31/2013.