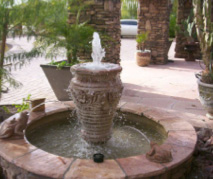 Maybe there is SOME truth to the myth about the Fountain of Youth! Although we don't recommend drinking from outdoor fountains, we can tell you that spending time listening to, and watching the sparkling water of a fountain is likely to make you zone out enough to recall some youthful moments from days gone by.
---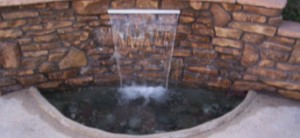 Fountains are the one of the most economical and surest ways of destressing, and they can makewater feature stone even the hottest summer days seem a little bit cooler. A running fountain can also function as "white noise", lowering or eliminating the sound of traffic, airplane and other less desireable sounds. Fountains come in all kinds of prefabricated shapes and sizes, or can be custom designed.
---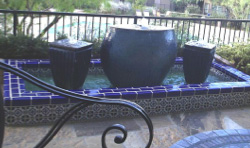 Maintenance is fairly simple, particularly if you stay on top of it. Check the water level daily (especially in summer mths). If it's low add water. Use a net to clear out any debris daily. Smaller Ftns should be drained & scrubbed weekly, larger fountains every other wk or even mthly. Remove pump & clean it inside every other wk. Use a algae growth inhibitor in the water. Run your Fountain 24/7 or at least daily.
---
Month of July Promotion
Free Water Leveler!*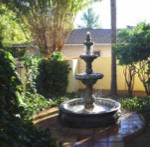 Goodman's will include an autofill water leveler free of water fountain promotion charge with purchase & installation of any prefabricated or custom designed water fountain.
Up to a $100 Value
depending on type of fountain and installation method
*Must be in our Service Area. One coupon per customer. May not be combined with other offers. Expires 8/31/2013.