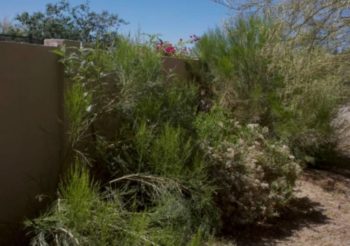 If your home abuts a Natural Area Open Space (NAOS), an alleyway or a natural wash Fire Abatement, clean ups should be scheduled on an as needed basis to prevent potential wildfires from spreading to your property and home.
---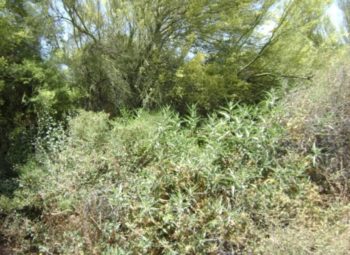 In the desert, It takes very little water for Native Plants to spring forth, mature and set seed for the next rain. While a lush desert may be beautiful to look at, it can become a real and very dangerous fire hazard for your family, pets, and home when the heat dries the Arizona vegetation up. Maintaining a 30 foot defensible space beyond your property's perimeter is highly recommended.
In NAOS areas, for the first 15 feet, remove perennial grasses, thin live overgrown trees and bushes. Remove dead branches or branches touching the ground. In the next 15 feet remove any dead vegetation that is on the ground.
---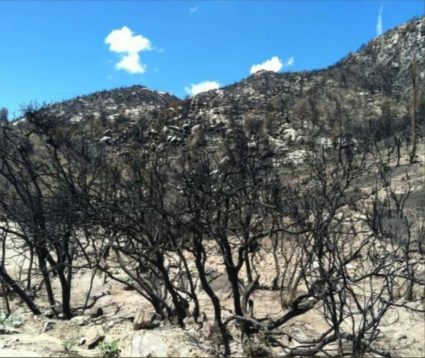 Check outside of your perimeter wall or fence at least once a quarter to make sure that the 30 foot defense space is still there. If weeds & debris are accumulating in the NAOS, alleyway, or wash it's time for a clean up. In most cases, the city is responsible and all you need to do is make a phone call the proper people in charge. In other situations it is the homeowners responsibility to maintain a defensible space. In either case, it is very important to make sure that you are aware of the potential dangers and precautions you can take to prevent wildfires in you property.
---
Month of June Promotion
Pre Monsoon Tree Trimming
Thinning of canopies prior to Monsoon Season helps wind pass through decreasing the chances of breakage or trees going down.
$40 Off jobs totaling $360 or more!*
*Must be in our Service Area. One coupon per customer. May not be combined with other offers. Expires 7/31/2013.