You have made a significant investment in time and money keeping your home and landscape looking its best. Don't let that hard work disappear from sight when the sun goes down. One of the most important elements of a landscape design, low voltage landscape lighting, makes a huge impact on the appearance and ambience of your yard. Installation of low voltage lighting is both beautiful and practical.
Here are just some of the benefits:
Safety
Outdoor lighting can add safety by illuminating walkways, patios, stairs, decks, gardens, pools and outdoor seating areas. It will also help to warn you of the presence of scorpions, snakes and javelinas. Your family and friends can enjoy your outdoor spaces at night and safely move through those spaces.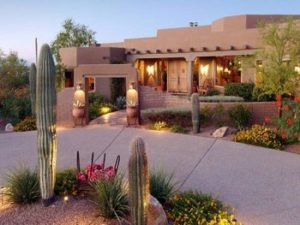 ---
Security
A well-lit landscape gives a feeling of care and involvement, discouraging burglaries and trespassing.
---
Comfort
Your outdoor space is an extension of your living space. Create an inviting space to entertain family and friends by adding attractive lighting to enable use of your outdoor space at night.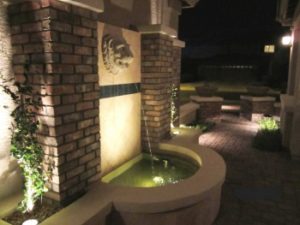 ---
Style
Make your yard a showplace by highlighting areas of your landscape with decorative lighting Installing lighting in areas such as flower gardens, trees and cactus, plantings, BBQ's, pools, and fountains can add beautiful accents to your outdoor space.
---
Curb Appeal
Give your home a wow factor by installing low voltage landscape lighting. Your home will
appear warm and inviting, giving your neighbors the impression that you care about your property and enhancing the value of your property.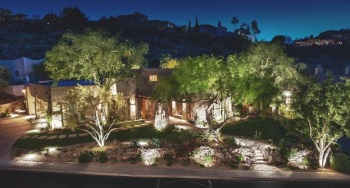 Today's lighting comes in a huge variety of applications including up lighting, down lighting, wall washing, path and driveway lighting, twinkle lights, hanging tree lights, stair lighting, BBQ lighting and spot lighting to name just a few! Landscape lighting fixture selections are nearly endless, and in today's marketplace you also get to choose from traditional, or energy saving, long lasting LED lighting.
If you would like to explore adding outdoor lighting to your home, call Goodman's Landscape, LLC. at (602) 861-1144.